Types Of Treatment
---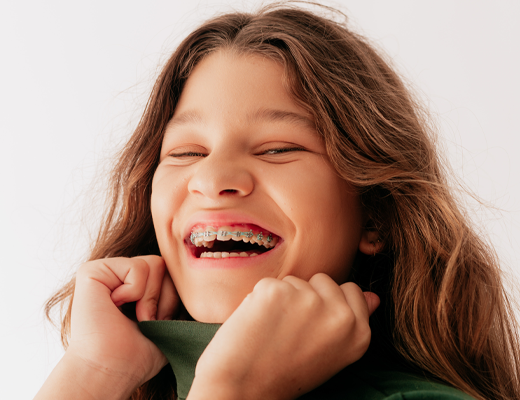 Orthodontics is a specialty branch of dentistry that focuses on correcting problems with tooth alignment. People sometimes assume that braces or clear aligners are the only type of treatment available. However, our dental practice may use additional equipment or treatment strategies based on your or your child's individual needs.
Why is Orthodontic Treatment Important?
You may think that crowded, irregular, or protruding teeth are only a cosmetic concern, but the problems with them go well beyond that. Teeth can be challenging enough to keep clean when they are perfectly straight.
With misaligned teeth, you may not be able to get them clean no matter how often you brush or use dental floss. The result is an increased risk of gum disease and cavities. Here are some other benefits of completing orthodontic treatment:
Brushing and caring for your teeth is easier.
Decreased temporomandibular joint (TMJ) disorder symptoms, especially headaches
Improved speaking and chewing abilities
Your smile is more attractive, and you are much more willing to share it with others.
No matter which type of treatment you pursue, you need to commit to the treatment plan if you want to improve your smile and oral health. For most people, this means scheduling checkups every four to six weeks at one of our dental practices. You also need to exercise caution and avoid certain foods when wearing either standard braces or clear aligners to avoid breaking them.
Orthodontic Treatment Beyond Braces and Aligners
Metal braces have a loop on the bracket affixed to the back teeth for headgear purposes. Headgear consists of a wire much thicker than the wire attached to your metal brackets. You place one end of the headgear into each loop and keep it in place with a strap that goes behind your neck.
Not all patients need to wear headgear since it depends on the severity of their alignment issue. Those who do wear headgear usually only do so at night. While it might look and feel a bit awkward at first, you or your child will grow accustomed to wearing headgear to bed. The extra pressure it places on the teeth allows them to move into the new position faster than they would have otherwise.
Space Maintainers
Space maintainers can either be permanent or fixed. The most typical use for them is when children lose primary teeth before the teeth have a chance to fall out naturally. Without space maintainers, other primary teeth can shift and not leave enough room for the new adult teeth. A single permanent tooth that erupts through the gums and doesn't have enough space to come in fully can cause significant problems with the other teeth.
Your child's orthodontist removes the space maintainer when X-rays show that the adult tooth is attempting to grow in its place. Space maintainers can be a permanent solution for adults who have lost teeth or a temporary fill-in while they arrange to receive dentures or implants.
Retainers
Dr. Daniel Holzhauer, Dr. Charles Hewett, Dr. Joshua Barta, or Dr. Benjamin Schneider may recommend that you wear a retainer after having your braces removed or discontinue orthodontic treatment with clear aligners. The reason for this is that they don't want to see your teeth shift back to their previous position. Retainers apply light pressure on the teeth to ensure they don't move now that you or your child have finished the main phase of treatment.
As with clear aligners, you can remove your retainer at any time. Just be sure that you wear it most hours of the day and that you take extra time to clean it while brushing and flossing your teeth.
Tooth Extraction
Extracting one or more teeth to allow the remaining teeth to shift may be necessary for you or your child. This is especially true with crooked teeth, crowded teeth, or one tooth that grows on top of another one. Your orthodontist will advise you on which teeth you need removed before you can officially start treatment. Rest assured, we use powerful pain medication and always look out for the patient's comfort.
Are you ready to learn more about the types of treatment in West Bend, Hartland, or Wauwatosa, Wisconsin? Please contact us to request a consultation.
Sources
Types of Space Maintainers for Children (newmouth.com)
What Is Orthodontics? (Definition & General Treatments) (newmouth.com)