Types Of Braces
---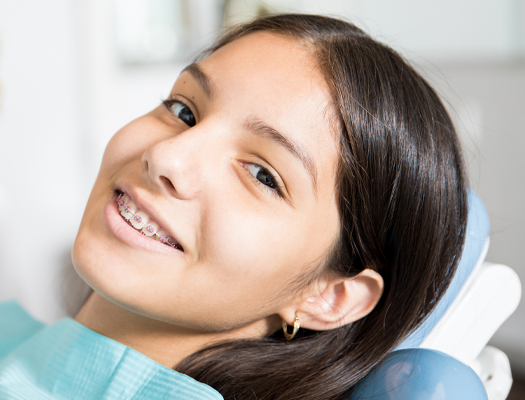 You are sure to have a lot of questions about braces if one of our orthodontists recently recommended them for you or your child. Dr. Daniel Holzhauer, Dr. Charles Hewett, Dr. Joshua Barta, and Dr. Benjamin Schneider would be happy to answer each of your questions during an orthodontic consultation. We know from experience that one of the first things people want to know is the types of braces available in our South Bend, Hartland, or Wauwatosa clinics.
How Braces Correct Problems with Alignment and Crooked Teeth
The purpose of orthodontic treatment is to shift teeth into a new position to improve overall oral health. Crooked teeth, teeth that grow on top of each other, poorly aligned teeth, overbites, and underbites can all make it challenging to keep teeth clean.
Braces put pressure on the teeth to move, which can sometimes cause mild discomfort. You will need to visit one of our orthodontists on a regular schedule throughout your treatment to ensure that you are making progress with your treatment goals. This is true regardless of which type of braces you choose. However, you may be able to go a longer time between appointments with braces you can remove.
Clear Aligners
Clear aligners also referred to as removable braces, are customized plastic trays that you wear over each row of teeth. Before you can start wearing aligners, your orthodontist at Holzhauer, Hewett & Barta Orthodontic Care must complete 3D imaging and take molds of your top and bottom rows of teeth.
After your molds are complete, specialists working in our dental laboratory create a set of customized clear aligners based on your unique issue and goals for treatment. You wear each aligner for approximately two weeks before switching it out for the next one.
People appreciate clear aligners because it allows them more discretion about their orthodontic treatment. Since the aligners are clear in color, no one knows you're wearing braces until they are sitting or standing right next to you.
You have the flexibility to remove clear aligners when eating or for a special occasion. Just be sure to brush your aligners, along with your teeth, before placing them back in your mouth. Treatment will progress faster if you wear them at least 22 to 23 hours a day.
Fixed Braces
Only an orthodontist can remove fixed braces, which include traditional metal braces and several other types. Standard metal braces consist of brackets and a long, thin wire that loops through each bracket.
Traditional braces have been around for decades and have a high success rate. Most patients wear rubber bands on their braces to put additional pressure on the teeth to move. Although exceptions do exist, traditional metal braces tend to be the most cost-effective means of orthodontic treatment. You can request different colored brackets if you get tired of the appearance of metal after a while.
Ceramic or Clear Braces
These function just as traditional metal braces do. The only difference is that our laboratory employees create them from ceramic instead of metal. The brackets are tooth-colored, allowing you the maximum level of discretion while wearing fixed braces.
Lingual Braces
Lingual braces are traditional metal braces that affix to the back of the teeth rather than the front. You may also hear people refer to them as incognito or hidden braces. Just keep in mind that lingual braces typically cost more and require a longer treatment time.
Self-Litigating Braces
Compared to traditional metal braces, self-litigating braces are more comfortable for some patients to wear because they do not have rubber bands attached to them. Instead, these types of braces include clips or doors that attach to wires, known as a sliding bracket system. This feature makes it easier for orthodontists to adjust your braces at each appointment.
Schedule an Orthodontic Consultation Today
Knowing that you or your child need braces and deciding which type is best can be challenging. We invite you to learn more about the various types of braces we offer during an initial consultation and screening.
Holzhauer, Hewett & Barta Orthodontic Care maintains practices in three Wisconsin cities for your convenience. We look forward to hearing from you soon.
Sources
Types of Braces: Pros and Cons of Different Kinds of Braces (dentaly.org)