Aligners (Invisalign)
---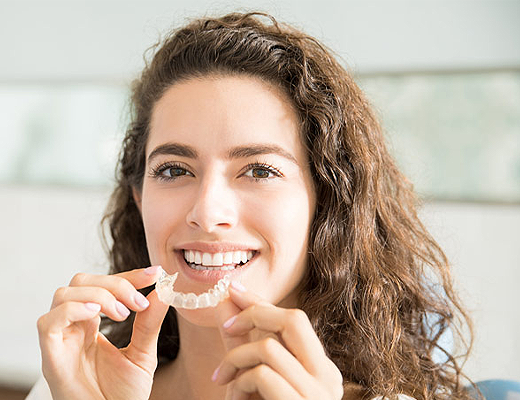 Holzhauer, Hewett & Barta Orthodontics offers Invisalign in West Bend, Hartbrook and Wauwatosa, WI. Invisalign is a brand name of clear aligners widely used to correct alignment issues that are mild to moderate in severity. If you need orthodontics, Invisalign might be a possible solution instead of braces. A consultation with your orthodontist will determine if you're a candidate for Invisalign.
Understanding Invisalign
Invisalign has become the gold standard for orthodontic aligners. It's a brand name of aligners that have achieved a level of popularity among orthodontists and patients due to its many benefits. But before anything, it's essential to understand Invisalign, how it works, what the process is, who it's for, and what to expect.
The first thing to know is that Invisalign isn't just one dental appliance; it's a series of appliances. The patient wears a series of Invisalign aligners over the course of treatment. Each new aligner moves the teeth closer to their intended position. The Invisalign sits inside the mouth. This usually takes some getting used to. In some cases, the patient may develop a small lisp until they grow more accustomed to wearing Invisalign. After a brief time period, it's common to feel like the Invisalign aligner is part of the mouth.
The Process of Invisalign Treatment
First, your orthodontist in Hartbrook, WI, will do a full dental exam to determine if you are a good candidate for Invisalign. Invisalign can treat many alignment problems as long as they aren't too severe. These include:
Overbite
Underbite
Crooked teeth
Gaps between teeth
And more
If it's determined that your dental issue is suited to Invisalign, then you'll be informed about a treatment plan. This will include your expectations as a patient to help ensure the intended outcome. Next, a dental impression will be made. This impression will be sent to a dental lab, where an Invisalign aligner will be custom-made for you. When the aligner is ready, you'll be notified by us to come back in for a fitting. At this appointment, your orthodontist will make sure the aligner is a good fit, make the necessary adjustments, and give you final instructions for wear.
During your treatment period, you'll return to the orthodontist's office repeatedly to get a newly fitted Invisalign aligner. Each visit brings you closer and closer to a better smile and improved teeth alignment!
When the final alignment goal is reached, you'll wear a retainer for a period of time. This retainer doesn't shift the teeth; instead, it keeps the teeth in their new position until the bone and gums fully form to support your teeth's new positions. After that period of time has passed, you'll no longer be required to wear a retainer, and your orthodontic treatment will be considered officially complete.
Note that the periods of time involved will vary according to your unique circumstances.
Benefits of Invisalign Aligners
Invisalign is popular because it offers several advantages over other orthodontic treatments, such as braces. Here are some of the many benefits of Invisalign aligners:
Comfort
After the short "breaking in" period, patients report that Invisalign is quite comfortable to wear. Sometimes a patient may even forget they're wearing it.
No Uncomfortable Adjustments
With traditional braces, recurring tightening adjustments are made at the orthodontist's office. This is where the orthodontist tightens the wires that run through the permanently-affixed brackets. These adjustments typically cause discomfort both during and after the appointment for a short while. But with Invisalign, there are no such adjustments. The only changes are when it's time for a newly fitted aligner.
Removable
Unlike traditional braces, Invisalign aligners are removable by the patients. This offers an unprecedented level of convenience when the patient can temporarily take out the aligner for certain reasons, such as oral hygiene, photo opportunities, special social or work events, eating, and more.
Low Profile
Invisalign is so named because they're nearly invisible. This makes them ideal for self-conscious individuals or anyone who just doesn't want the look of traditional braces for any reason.
Invisalign aligners in Wauwatosa, WI, are available at Holzhauer, Hewett & Barta Orthodontics. If you're interested in learning more or trying to determine if this is an option you should be considering, we'd be happy to hear from you. Contact us today to book a consultation.